Dog Grooming Services
---
Pet grooming is an essential part of continued health and regular professional grooming is the easiest and most convenient way to ensure your dog remains in the best condition possible.
Our services include bath & tidies to specific breed cuts. We also offer single services such as nail trims and quick trims (nails, feet, face and sanitary patch). All styles can be customized to suit the owners tastes and the pets needs. The following are considered full grooming services.
For New Customers
Due to an extremely high demand for grooming at the current moment, we will not be accepting new grooming clients until further notice. All new grooming sign ups will be rejected. We apologize for any inconvenience this may cause.
Online Reservations
Please sign in or sign up for realtime appointment availabilities. We are not accepting new grooming clients until further notice.
Book A Groom
Dog Grooming Prices
---
Prices listed is only a guideline. Final price may change depending on coat condition, size and temperament of the animal.
Prices are subject to change without notice.
Prices do not include GST.
Breed/Custom Quotes
---
Please use the contact form below or call us directly at 403-984-9247 for a quote. Final price may change depending on coat condition, size and temperament of the animal.
Bath & Tidy
A bath and tidy is what a short coated breed would receive, A long coated breed without any standard patterns or a dog in between hair cuts.
A bath and tidy consist of; A bath, blow dry, nail Trim, cleaning of the ears, clear hair from Sanitary areas such as groin and bum, trimming the feet and featherings; as well as cleaning up eyes and face.
---
Small Dog - $55 / Long Hair $65
Medium Dog - $60 / Long Hair + $75
Large Dog - $80 / Long Hair + $125+
Giant Dog - $90 / Long Hair $150+
Kennel Cut
A kennel cut leaves the entire body one length all over leaving the head, face and tail to scissor. Depending on your preference there are different lengths of kennel cuts.
Starting at about a 1/4" and ranging to as short as 1/16″ there are even shorter but normally aren't recommended to be used unless the dog has extreme matting and has no other alternative.
---
Small Dog - $80
Medium Dog - $90
Large Dog - $115
Giant Dog - $140
Lamb Cut
A lamb clip leaves the back, neck and belly a shorter length (about 3/8″ or 1/4") and the head, tail and legs are hand scissored and left neatly formed and fluffy. Again, this hair style can be left longer or shorter depending on personal preference
---
Small Dog - $90
Medium Dog - $100
Large Dog - $140
Giant Dog - $150
Teddy Bear
A teddy bear clip is normally leaves the "Long and fluffy" look. The length is normally a 1/2 inch or longer and completely scissored. Keep in mind that under certain circumstances a teddy bear can be adjusted in length to suit the owner's preference and can be shortened but maintain the "long and fluffy" look.
---
Small Dog - $85
Medium Dog - $100
Large Dog - $140
Giant Dog - $150
Breed Cut
A breed clip is basically the specific hairstyle your specific purebred dog would have. Each breed would have their own style and would be either a scissored or a clipped pattern.
Please call for quote.
Custom
A clip that is not a standardized breed clip. This clip is really more of an extension of you and your groomer's creative side and can entail just about anything your mind can think up. Creative cuts can be modified with colors, beads, gems, braids, or can be shaved or scissored into any non specific specialized breed clip.
Please call for quote.
All Full Grooming Services Include:
Bath
Blow Dry/Fluff Dry
Ear Cleaning
Ear Plucking (if necessary)
Nail Trim (Dremeling extra charge)
Coat Vitamin Spray
Cologne or Perfume
Bows or Bandana
Anal Glands Expelled (By Request Only)
Scared, Stressed or Shy?
Our goal is to make the grooming experience as enjoyable as possible for your pet, NOT to push them beyond their limits
If you pet exhibits signs of distress during a grooming session, your pet maybe sent home unfinished. Your pet will only receive services that he/she can handle until we gain their trust.
Did you know that half of dogs over the age of 8 show one or more signs of cognitive dysfunction–a diagnosis very similar to to Alzheimer's disease in people?
We will not make an older or infirm pet do what I need to do without helping the pet out. This may mean needing the assistance of another professional to help in supporting the animal or giving the pet a more practical hairstyle. You may be asked to bring your pet more often – an hour of grooming is sometimes as much as an older pet can handle.
Unaltered Pets
We will groom unaltered dogs/cats except for females in heat. However, daycare option is not available for unaltered dogs.
Drop Off/Pick Up Policy
We have limited kennel space to hold your dog before or after grooming. To ensure everyone has maximum level of comfort and enjoyment, we would like to adhere to a strict grooming drop off and pick up policy
Grooming drop off is no more than 15 mins before your appointment (unless you've booked a Spa & Play).
We will call you 15 mins to 30 mins before your dog is ready for pick up. You must arrive within 1 hour of the phone call for pick up or an extra $25 kennel fee will be charged.
Any dog dropped off and/or picked up outside of this time window will be charged an additional care fee regardless if they are admitted to daycare or not.
Cancellation Policy
We require a minimum of 24 hours notice to cancel an appointment.
Please call us at 403-984-9247 directly for any appointment modifications.
First time missed or forgotten appointments will result in a charge of $25.
Second and subsequent missed appointments will require payment in full before booking is confirmed.
Other Services
Scissored Teddy Bear - Small Dog $95+
Scissored Teddy Bear - Large Dog $165+
Spaniels - Lamb Clip (Legs Longer) - $90
Terriers - Breed Clip - Small - $85
Terriers - Breed Clip - Large - $125
Terriers - Breed Clip - Giant - $160
Dematting Fee per 20 mins - $20
Our Groomer - Michelle Henson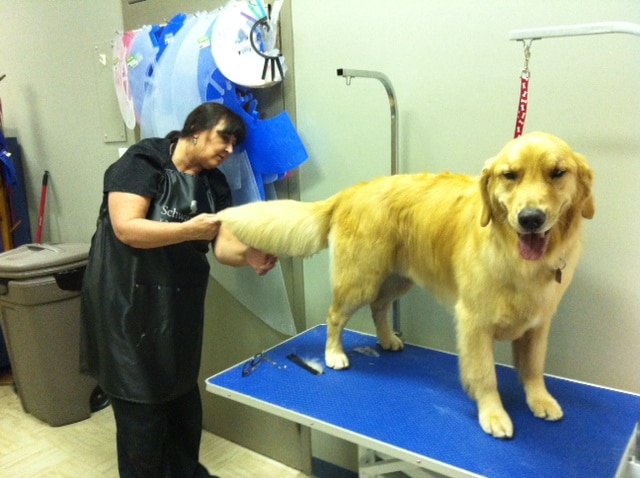 Michelle has over 37 years of grooming experience. She first got her paws wet by working at her parents' kennel when she was young. Her Saturday chore was to groom the poodles before she could go out and play. Her first job was at Mrs Beasley's Puppy Parlor when she was 16. She's also worked at The House of Dogs and Touch of Class.
In 1981, she landed her dream job at the 9th Ave Animal Clinic and she's been there ever since. At the Animal Clinic, she has learned all aspects of animal health and can easily recognize any health issues and can spot flea, lice and tick a mile away.
Anal Glands - $20
Ears Plucked/Cleaned - $10/$15
Face Trim - $20+
Nail Cuts - $10+
Nail Dremel - $20+
Sanitary Trim - $15